The Sigma 105mm f/1.4 Art lens changed the way I do landscape photography.
For my most recent long-term photography project, I made a dramatic change in how I produced photos: I shot almost exclusively with a single focal length prime lens: the Sigma 105mm f/1.4 Art lens. I used this fixed focal length, medium telephoto prime lens almost exclusively for landscape photography over the course of more than two years: no zooming, a narrow 23.3° field of view, and a fast f/1.4 aperture.
Using this lens exclusively was quite possibly, one of the most challenging, yet rewarding experiences in my photography career. With the trials encountered and lessons learned from this lens, I don't think I'll ever look at photography the same way again.
As much the lens itself as the way I used it, having on hand the longest f/1.4 lens available for my camera took my longest running photography project and brought it to the extremes that I sought for its execution. This is my landscape experience review of the most ridiculous camera lens that I've ever owned and how it changed my photography forever.
The Monster
Clearly designed for low depth of field portraits, Sigma literally calls the Sigma 105mm f/1.4 Art the "Bokeh Master". To many photographers across the internet, it's known by another name due to its hefty build: the "Bokeh Monster". And my, what a monster it is.
I knew that the Sigma 105mm would be large when I ordered it, but when I first pulled it out of the box, I was absolutely shocked at how big and heavy it was.
This lens is dense. Its front lens element uses a massive 105mm diameter filter thread. With all that glass packed into such a tight package, it weighs 3.62 lbs (1.64 kg). That's even more than my super telephoto zoom, making it the heaviest single piece of gear in my entire personal collection of cameras and lenses.
Landscapes?
The Sigma 105mm f/1.4 Art is not marketed as a landscape lens. Usually when shopping for a landscape lens, we'd reach for a super wide angle 18mm or 14mm.
I doubt there are many photographers that would even consider using the Sigma 105mm for shooting anything but portraits. It's categorized by Sigma as a "Wedding and Portrait" lens. If you filter Sigma's website for "Landscape" the 105mm Art gets omitted from the list.
So why on Earth would I buy this lens for landscape photography?
I centered my decision to get the Sigma 105mm f/1.4 specifically for capturing large format panoramas: ultra high resolution photographs made sometimes from tens to hundreds of individual photographs stitched together. When I was searching for the perfect larger aperture astrophotography lens for my high resolution panorama project, one lens seemed consistently end up at the top of my wishlist: The Sigma 105mm f/1.4 Art.
Large format panoramas rely on shooting numerous separate frames in a large mosaic while using a long lens, like the Sigma 105mm f/1.4 Art. The longer lens allows for a larger aperture and finer resolution, making for much higher resolution and lower noise result, especially when multiple frames are finally combined into a panorama. I shoot my large format panoramas with the Sigma 105mm f/1.4 mounted to my custom assembled DIY large format panorama head which allows me to more precisely rotate the camera at set degree markers.
There were a number of traits that I was looking for that specifically attracted me to the Sigma 105mm f/1.4 Art for panoramas: it is a medium telephoto, it has a very fast f/1.4 aperture and as Sigma puts it, "exceptional peripheral brightness". Basically, for an f/1.4 lens, it has minimal vignetting or light falloff when compared to other f/1.4 lenses. For high resolution panoramas, that was one of the most desirable traits in order to improve the digital panorama stitching workflow when shooting wide-open at f/1.4. The less light falloff there is, the easier it is to more seamlessly blend panorama frames. Being able to shoot at f/1.4 for astrophotography with minimal vignetting was also a very important trait in choosing this lens.
If you've used any other Sigma Art lens, the Sigma 105mm f/1.4 will look and feel very familiar as far fit and finish is concerned. The "Art" line of lenses are Sigma's premium tier of camera lenses and the 105mm Art is no exception. It's quite possibly one of the nicest lenses I've had the pleasure of using. It is very nicely finished with a mix of composite and metallic build. It features a very large reversible cylindrical lens hood that's lined with a rubber rim and locks on to the lens with a knurled thumbscrew.
The Sigma 105mm f/1.4 Art was originally designed with DSLR systems in mind and the Sony E-mount version features a deeper lens mount flange to meet up with the short flange distance of the Sony mirrorless system. This cantilevers the lens out from Sony bodies, noticeably adding to the heft of the system as a whole and making the whole kit feel rather unwieldy. Balance-wise, you don't mount the lens to a camera, you mount your camera to the lens, especially when using it with a small Sony mirrorless camera. It looks ridiculous when paired with my smallest full-frame camera.
Luckily, Sigma also outfitted it with with a metal tripod collar that's machined with an Arca-Swiss style dovetail mount for mounting the lens directly into any Arca compatible tripod head. The tripod collar can be loosened to allow the lens to rotate 90 degrees for portrait orientation shooting.
The lens features Sigma's HSM (Hyper-Sonic Motor) autofocusing system which is very quiet and fully internal to the lens, but is also comparatively slow when compared to more modern stepper motor driven linear focus drives. There is a single switch on the lens for switching from autofocus to manual focus. The manual focus ring is fully mechanical and linear in its rotation which makes manual focus very easy to perform by feel, especially when compared to more modern fly-by-wire focusing systems. Since I was often shooting landscapes with this lens, I almost exclusively used manual focus. It also features a traditional focus scale window for judging distances. Overall, the Sigma 105mm f/1.4 feels like a very nice traditional SLR lens design, just pushed to the extremes of specification.
Shooting Iceland with the Sigma Art 105mm f/1.4 Art Lens
Let me take you along on the journey I had shooting with this lens on a month-long visit to Iceland. I traveled with my wife, Diana and several friends along Hringvegur, the Ring Road, around the country and during our time there, I tried to shoot exclusively with the Sigma 105mm f/1.4 Art.
My wife and I traveled to Iceland in the late spring, approaching the summer solstice, when the days were long and there was nearly no night: only an extended dusk that flows back into dawn without ever getting fully dark. With the darkest conditions only coming well after midnight, there was no astrophotography to be had in Iceland this time.
I recall in our first few days thinking that the Sigma 105mm f/1.4 Art felt too unwieldy every time I wanted to shoot with it. I wondered often if I had made a mistake buying it, just given its size. The set up time and the shooting time especially to try to make these large panoramic shots was certainly not the most fun with such a large and heavy lens. It's hard to deny that the one major problem with Sigma 105mm f/1.4 Art is its monstrous size. Oh but the photos it makes!
Perhaps it was more the process I chose that was the burden: shooting massive multi-row panoramas, often with more that 30 frames is a tedious affair. But in retrospect, I just love that I put the effort in to carrying this lens everywhere and for taking the time to shoot so many panoramic frames, even if for just a single image. I adore the photos I made with the 105. There's a certain indescribable quality to panoramic photographs from the Sigma 105mm Art.
Even when shooting my large format panoramas, the Sigma 105mm Art's shallow depth of field is often immediately apparent: foregrounds smooth out and get lost, directing attention towards the mid-ground and background, giving a landscape a more portrait-like feel. My early panorama projects with the lens ended up being exactly that: portraits of Icelandic mountains. I guess it's a portrait lens after all.
Iceland has its fair share of famous mountains like Kirkjufell, Vestrahorn, and, of course, Eyjafjallajökull, but on our month long trip, I kept stopping to photograph this one random mountain along Snæfellsnesvegur (Snæfellsness Road).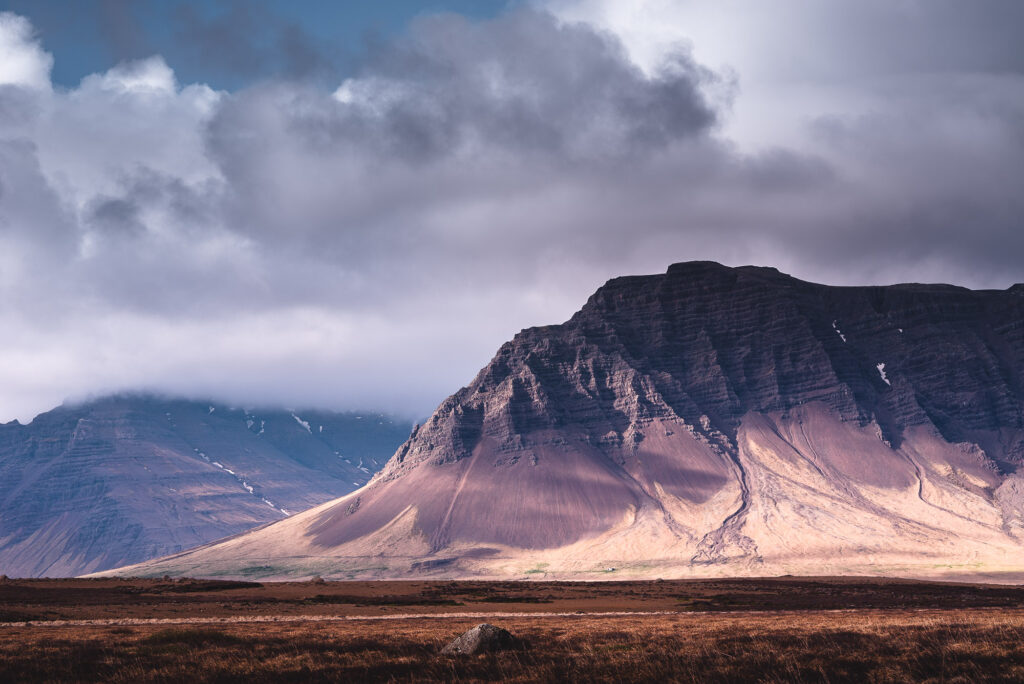 I later learned through Peakery that it is called Fagraskogarfjall and it ended up being one of my favorite subjects during our first week.
I had the intention of making ultra-wide angle landscapes with and was forced to think a little differently when shooting with a telephoto lens . One of the primary changes was in trying to compose. Since I wasn't shooting on a 14mm, I no longer had a viewfinder that could show me the ultra-wide field of view I wanted in the final shot. Much of the challenge in finding success with this lens was in finding how to compose a photo that was more than 10 times as wide as what the viewfinder could actually show me. One of the simplest ways to ease the challenge of framing was to focus on simple, centered, nearly symmetrical compositions.
One of the decisions I had to make shooting landscapes with the Sigma 105mm f/1.4 Art was whether or not to stop down. Shooting near wide open instantly gives the shot a distinctly short depth of field and a more portrait-like feel, especially if I included a large portion of foreground in the shot. The issue with shooting at f/1.4 was deciding whether or not to attempt to shoot a large portion of foreground, knowing that it would be mostly out of focus.
Even shooting stopped-down fully to f/16, the close foregrounds of my panoramas would still be mildly out of focus, making it that much more important to find a distinct obvious subject, rather than just a scattered wide sweeping landscape. One small issue I ran into with the Sigma 105mm f/1.4 was the maximum f/number of f/16. Without an ND filter, it wasn't really possible to shoot any slower than 1/8th of a second, even in the overcast lighting of the day. I would usually prefer to use a shutter time longer than 1/4th for shooting flowing water and for a large waterfall like Skogafoss, a full half second or longer would have been preferable for a smoother falling water effect. Had I been able to stop down to f/22 or even f/32, that would have been preferable, especially given the cost of a typical ND filter for a 105mm thread diameter.
A lot of the process like tripod leveling, focusing, composing, and shooting all took much longer when trying to capture a very large scene with a telephoto lens and it reminded me very much of setting up a studio portrait session, rather than a typical wide angle landscape. With large format panoramas, you can't shoot, check and re-compose. Instead, it requires proper pre-visualization, careful camera placement, and even a little bit of planning.
So the Sigma 105mm constrained refined each landscape shooting session into this very portrait-like shooting process and I think that was the first thing changed the way I started to see. Even though my goal was to capture wide angle shots with a panorama stitching method, I started to think more like a portrait photographer, but in the context of landscape shooting.
Sometimes, composing landscapes like a portrait was exceptionally easy, especially in Iceland. There are so many prominent, iconic landscapes in Iceland that make great "portrait" subjects.
Seeing massive panoramas at 100% magnification while post processing is one of the things I love most about creating these photos. I love finding smaller crops of the total panorama that work on their own as a standalone image, as if re-visiting the location to view it again in more detail than my memory could ever deliver. The Sigma 105 Art delivers exceptionally sharp results in this application.
Trying to compose these portrait-like landscapes changed the way I would normally visit an iconic location like Skogafoss, Kirjufell or Svartifoss. I found myself spending much more time just enjoying being in the place, rather than constantly looking through my camera, shooting one composition after another, hoping for something I liked to show up.
Instead, I'd wander and wait. Wait for the one right spot, take it in and analyze it before unzipping the backpack, deploying the tripod and mounting the lens to the tripod head. I'd say that this slower process of shooting is something akin to film photography.
With film, you have a limited number of shots in your roll. That one limitation creates a profoundly different shooting experience when compared to typical digital photography. Rather than shooting away in the hopes of getting something good, there's suddenly incentive to think more about composition before even pulling out the camera.
Shooting these large format panoramas with the Sigma 105mm f/1.4 Art kind of forced me into the same state of mind as if I were shooting on actual large format film. When a panorama has 30-60 frames, it can take up to 5-10 seconds shoot each frame of the panorama and that means it takes up to 10 minutes just to shoot one composition. Like shooting with a view camera, every step of shot preparation was key. Just the thought of wasting a full 10 minutes of work is enough incentive to check and double check that I liked my composition, focus and exposure before I start shooting.
Closing
I often debated with myself as to whether the Sigma 105mm f/1.4 was or was not the right tool for this landscape project. I would say that for most conditions like this, I could certainly have used a smaller, lighter, cheaper and less sharp medium telephoto lens. The Sigma 105mm f/1.4 Art is bigger than I'd like it to be. I guess what I really wish was is if this lens was originally designed in a more compact body for mirrorless cameras. Perhaps Sigma will eventually release a shorter fast 105mm design made specifically for mirrorless cameras. If they did, I'd promptly trade this lens for it if it meant carrying a smaller overall kit.
But having a lens that performed near flawlessly optically while also offering an unprecedented f/1.4 aperture let me forget about the weight of my camera bag and allowed me to make photographs that would otherwise have been impossible. If you're looking for a lens that produces images unlike anything else, the Sigma 105mm f/1.4 Art certainly delivers… if you can handle the heft.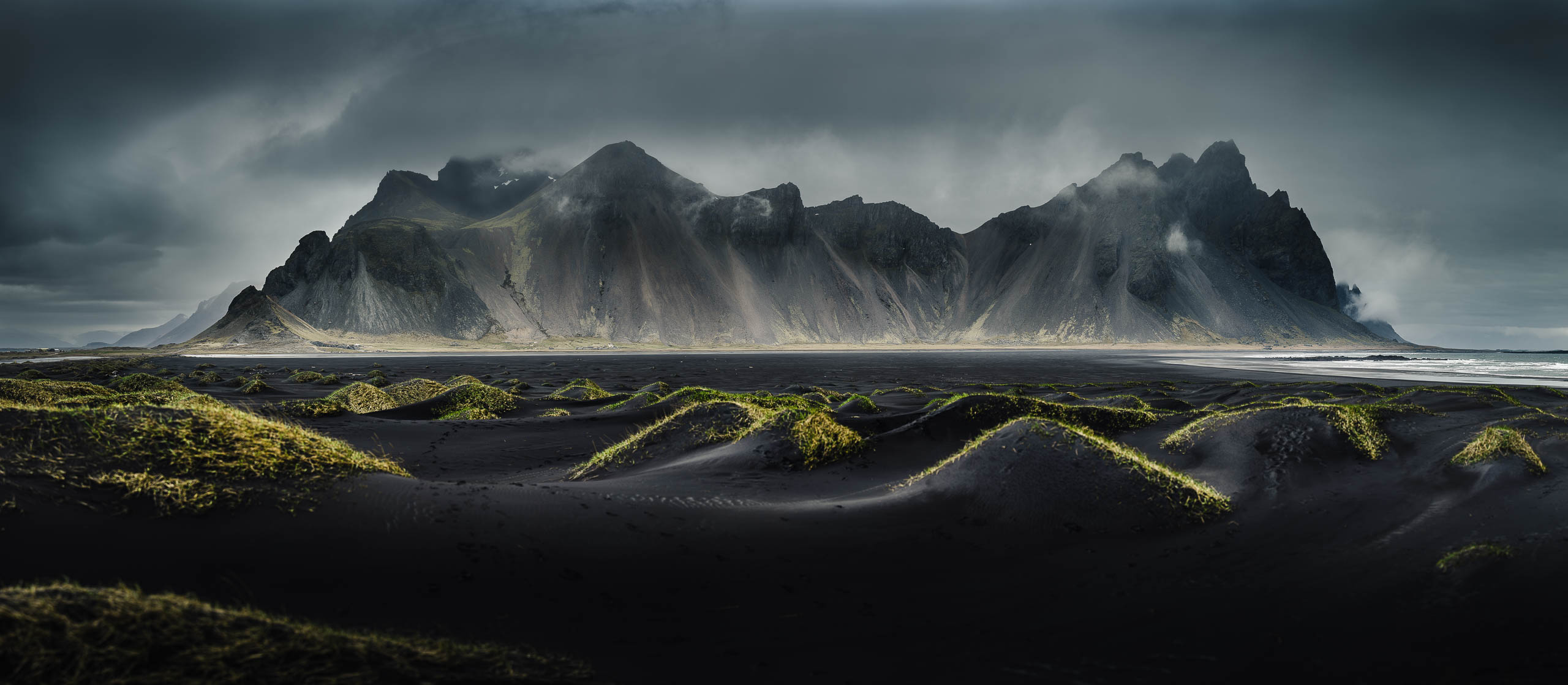 Now, Lonely Speck usually focuses mostly on astrophotography and, of course, nearly all my shots from my time in Iceland were shot during the daytime. There simply wasn't enough actual nighttime at that extreme of a latitude in the late spring for me to truly utilize the low-light capability I had originally sought for this lens. In the next part of this lens review, I'll show you what is was like to shoot landscape astrophotography with the Sigma 105mm f/1.4 Art lens and why it was truly a magical lens for capturing the stars. Thanks for coming along.
Gear
Links below are affiliate links that allow Lonely Speck to earn fees.
This is the gear that I used to shoot all the photos from this post
Legal Disclosure
We are a participant in the B&H Affiliate Program which also allows us to earn fees by linking to bhphotovideo.com. We are a participant in the Amazon Services LLC Associates Program, an affiliate advertising program designed to provide a means for us to earn fees by linking to Amazon.com and affiliated sites.
Learn Astrophotography
Astrophotography 101 is completely free for everyone. All of the lessons are available on the Lonely Speck Astrophotography 101 page for you to access at any time. Enter your email and whenever we post a new lesson you'll receive it in your inbox. Updates will be sent out only periodically, usually less than once per week.
Help us help you!
Lonely Speck is our full-time job. It's been an amazing experience for us to see a community develop around learning astrophotography and we're so happy to be a small part of it. We have learned that amazing things happen when you ask for help so remember that we are always here for you. If you have any questions about photography or just want to share a story, contact us! If you find the articles here helpful, consider helping us out with a donation.
Thanks so much for being a part of our astrophotography adventure.
-Ian and Diana