SharpStar2 by Lonely Speck
Precision Focusing Tool for Astrophotography
Achieve perfect focus on the stars with SharpStar.
SharpStar is a simple tool created by Lonely Speck to help astrophotographers achieve critical focus on the stars with their camera lens and filter holder.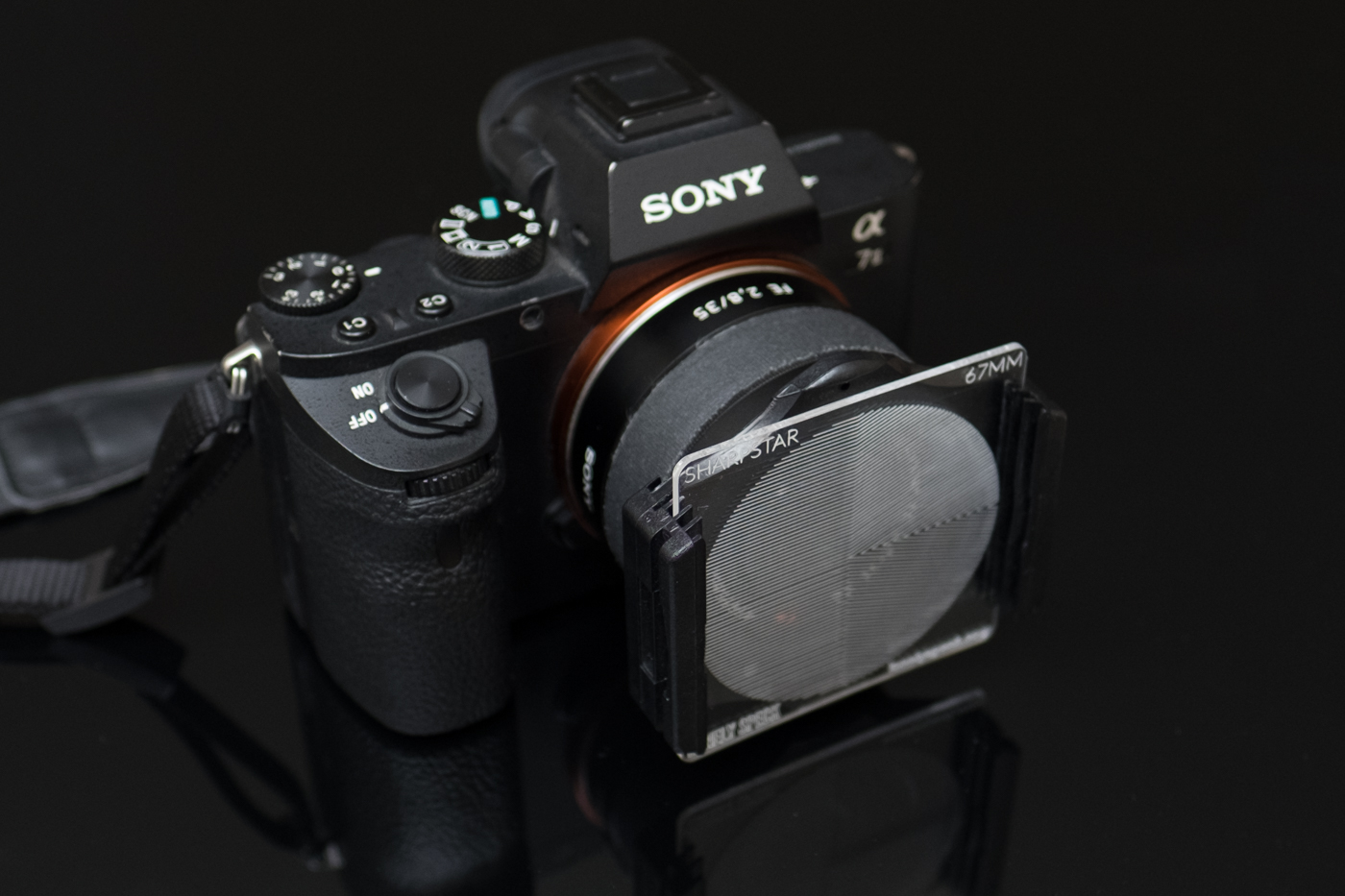 Focusing a camera lens in the dark is one of the most difficult skills to master for astrophotographers. There's always the last little bit of uncertainty about whether or not critical focus has been achieved.
SharpStar helps astrophotographers achieve perfect focus on the stars, every time.
How It Works
SharpStar is a special kind of mask that mounts in front of your camera lens.
In astronomy, it's also known as a Bahtinov Mask. SharpStar uses the properties of optical diffraction to create a set of three fine spike lines around a bright star. These diffraction spikes will shift position as you focus your camera. Adjusting focus so the central diffraction spike sits evenly between the other two diffraction spikes will ensure perfect focus. Once you've verified the focus pattern on your test shot, you can simply remove the SharpStar and shoot like normal — knowing that you have perfect focus.
The diffraction spike pattern that SharpStar creates is a precise visual reference of focus success. If the central spike is off to the left, focus is too far, if it's off to the right, focus is too near. If it's in the center, it's just right.
How do I use the SharpStar?
Check out our short video tutorial of how the SharpStar2 works in the field below:
You can also download a copy of our Quick Start Guide (included with every order).
SharpStar2 Design
Lonely Speck's SharpStar2 is made of precision laser etched optical plastic and comes in a square filter shape, made to fit into the most popular square filter systems. See below for lens compatibility and filter size recommendations.
SharpStar2 Lens Compatibility
SharpStar2 was designed to work on most DSLR and mirrorless system camera lenses.  As with most wide field astrophotography, SharpStar2 will usually show the best results from relatively large-aperture, or "fast" lenses. The shorter the lens, the smaller the diffraction pattern and the more careful you'll need to be to center your target star in the viewfinder. See our lens compatibility chart below:
In general, the lower the f/number and/or longer the focal length of the lens, the better.  (e.g. it won't work well on a 10mm f/3.5 but will work well on a 12mm f/2). To demonstrate why higher f/numbers aren't as good, check out the examples below of the diffraction spikes made with the SharpStar2 on a 16mm lens at different f/number settings:
Example Diffraction Spikes with 16mm Lens
As the f/number increases, the size and visibility of the diffraction spike pattern diminishes. The central spike at f/5.6 is still barely visible, bit it's a little too difficult to see for us to recommend as a focusing aid. Use the SharpStar2 at lower f/numbers for the best results.
Mounting SharpStar2
SharpStar2 requires a square filter holder and the appropriately-sized system adapter ring to fit your lens (both items sold separately).
The SharpStar2 works with the Lee, Cokin, Formatt-Hitech and other similar filter holders that come in 85mm, 100mm and 150mm (NEW!) sizes. If you don't already have a filter system, we personally recommend the Formatt Hitech system because of its price and its modular design that works well with wide angle lenses:
85mm (lenses up to filter thread diameter of 77mm):
-and-
100mm (lenses up to filter thread diameter of 105mm):
-and-
150mm (specific fixed-hood wide angle lenses, listed below):
Haida 150mm Filter Holder for:
Order Your SharpStar2 Now
SharpStar2 is now available in three sizes:
85mm (Cokin P, Formatt-Hitech 85mm)
100mm (Lee 100, 4″x4″, Formatt-Hitech 100mm, Cokin Z-Pro)
150mm (Haida/Nisi 150mm, Lee SW150)
Sizing Example: If your lens filter thread diameter is 67mm, use an 85mm or 100mm square filter holder system. The 100mm is often the preferred choice as it will be compatible with the most lenses. 
100% Product Guarantee
If you're not satisfied with your order for any reason, contact us and we'll make it better with a free replacement or return for refund.
Your order will include:
(1) SharpStar2 Precision Focusing Tool
Quick Start Guide with simple instructions for getting started
NOT included: filter holder and adapter ring (sold separately, see recommendations above)