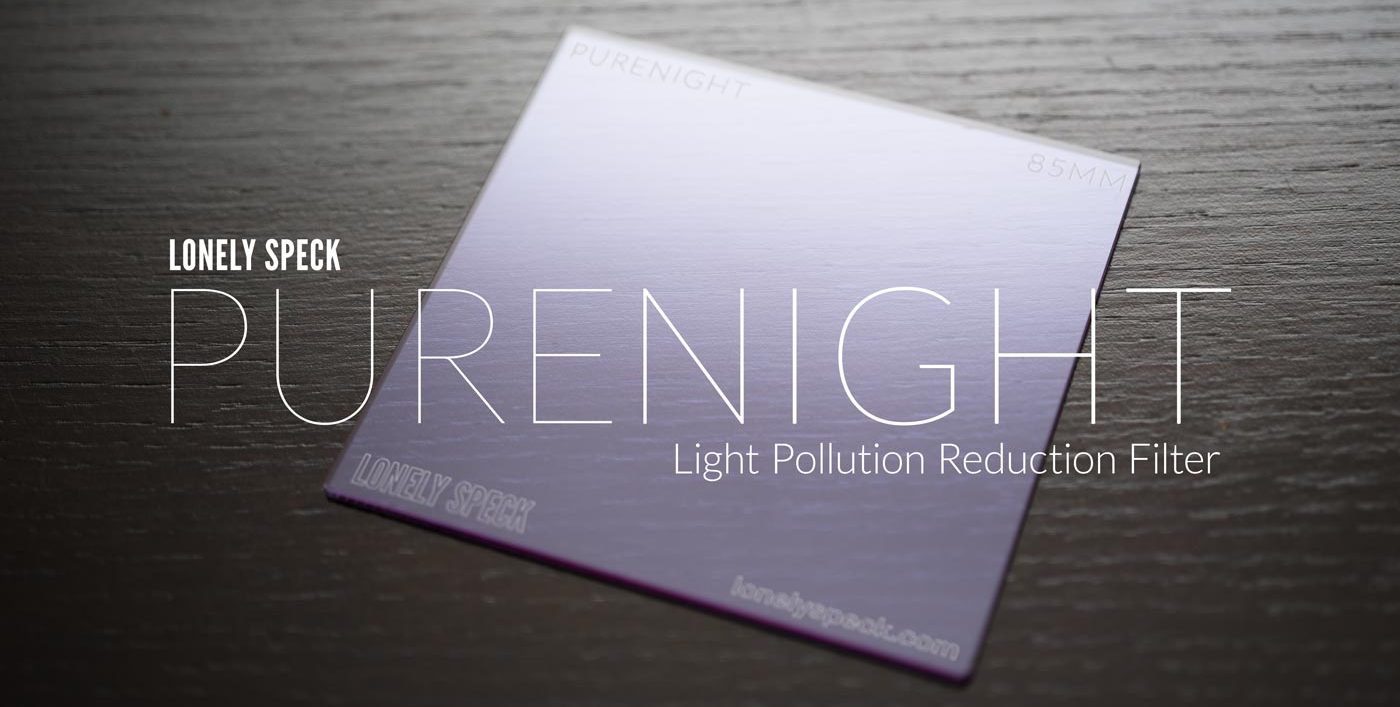 Enjoy better night sky images with PureNight.
PureNight is a premium glass light pollution reduction filter designed by Lonely Speck. Made of a special didymium glass, PureNight reduces the transmission of light from sodium vapor lamps, one of the most prevalent sources of light pollution on our planet.
Resulting images will have truer colors and improved contrast when compared to images influenced by light pollution.
Sample Images
Below are example photos taken with and without the PureNight installed.
These photos were made in Tekapo, New Zealand, home of the world's largest dark sky reserve and some of the darkest skies in the world. Even so, PureNight makes a dramatic improvement by reducing the effects of light pollution on the image.
Both of these photos were exported straight from RAW files with no edits whatsoever. A one stop increase in ISO was used on the filtered image to compensate for the decrease in brightness in the overall image due to the reduction of light pollution. All other settings were identical. First image: Sony a7S, 18mm f/2.8, 25s, ISO 3200, Daylight WB. Second image: Sony a7S, 18mm f/2.8, 25s, ISO 6400, Daylight WB. You can download the full resolution RAW images here (.zip, 24.1 MB). They're in DNG format so they should be editable on most RAW editors like Adobe Lightroom or Camera RAW.
More Comparisons
By popular request, here are a couple more comparisons of astrophotos shot with and without the PureNight.
These photos, as with the first samples, were exported directly from RAW with no edits other than a brightness equalization with a 0.7EV push on the PureNight shots to compensate for the reduced brightness of the light pollution.
Once again, If you would like to download the full resolution versions of these images to play around with, download the full resolution RAW DNGs here (.zip, 73.2 MB).
How It Works
PureNight is made of a special type of glass called didymium glass. PureNight mounts in front of your camera lens with a standard square filter holder (sold separately).
PureNight greatly reduces transmission of yellow and orange light in the 575nm to 600nm wavelengths, the same wavelength of light that is emitted by high pressure sodium vapor lamps. Sodium vapor lamps are most commonly used on street lights and industrial lighting fixtures and so they are one of the most prevalent sources of light pollution for astrophotography.
Our PureNight filter will reduce the effect of light pollution in your astrophotography for truer colors straight out of the camera. Photos made through the PureNight will have improved contrast and reduced haze from light pollution.
Premium Optical Quality
PureNight is precision ground and polished and features an anti-reflective multi-coating to greatly reduce the effect of internal reflections and ghosting that plague most filters when used at night with bright light sources in the image.
Mounting PureNight
PureNight is a universal square filter available in 85mm and 100mm sizes. PureNight requires a square filter holder and the appropriately-sized system adapter ring to fit your lens (see recommendations below).
Like the SharpStar2, PureNight is made to fit into the most popular square filter systems in 85mm, 100mm and 150mm sizes.
If you don't already have a filter system, here are some recommendations:
85mm (lenses up to filter diameter of 77mm):
Formatt Hitech 85mm Aluminum Holder (Amazon / B&H) and Formatt Hitech Adapter Rings for 85mm Aluminum Holder (Amazon / B&H)
100mm (lenses up to filter diameter of 105mm):
Formatt Hitech 100mm Aluminum Modular Holder (Amazon / B&H) and Formatt Hitech Adapter Rings for 100mm Holder (Amazon / B&H)
150mm  (certain wide angle lenses with fixed hoods):
Haida 150mm Filter Holder (Amazon / B&H)
Lee SW150 Filter Holder (Amazon / B&H)
NiSi 150mm Filter Holder (Amazon / B&H)
A Crowdfunded Project
We launched PureNight as a crowdfunded project with a close date of December 31, 2016 for our early bird pre-orders. Thank you to all of our early supporters! Crowdfunding is what made PureNight possible.
Our first project, the SharpStar, was a crowdfunding success as well, and we're happy that PureNight has proven successful too.
Limited Quantities Available
PureNight filters are now available in the following sizes:
PureNight Sizes
85mm square filter — $264
(Compatible filter systems: Cokin P, Formatt-Hitech 85mm)
100mm square filter — $289
(Compatible filter systems: Lee 100, 4″x4″, Formatt-Hitech 100mm, Cokin Z-Pro)
150mm square filter — $459
(Compatible filter systems: Lee SW150, NiSi 150mm, Haida 150mm)
 .
100% Product Guarantee
If you're not satisfied with your order for any reason, contact us and we'll make it better with a free replacement (if stock is available) or return for a refund.
Your order will include:
PureNight Light Pollution Reduction Filter
Protective Case
NOT included: filter holder and adapter ring (sold separately, see recommendations above)
Place Your Order Here
In-stock items ship out in 1-2 business days.
*International customers: please see important note below before ordering.
Buy
Questions about your order? Get in touch by emailing us.
All orders are currently processed through Celery. (This name may appear on your charge approval.) Credit cards (via Stripe) and PayPal are both accepted forms of payment.
*PureNight orders will usually ship from California, USA via USPS First Class Mail. Tracking may not be available for certain international destinations. All packages sent internationally are properly marked with their retail value and labeled as a "Glass Photographic Filter" with HS Tariff code 900220. 

You are responsible for any customs fees imposed by your country.