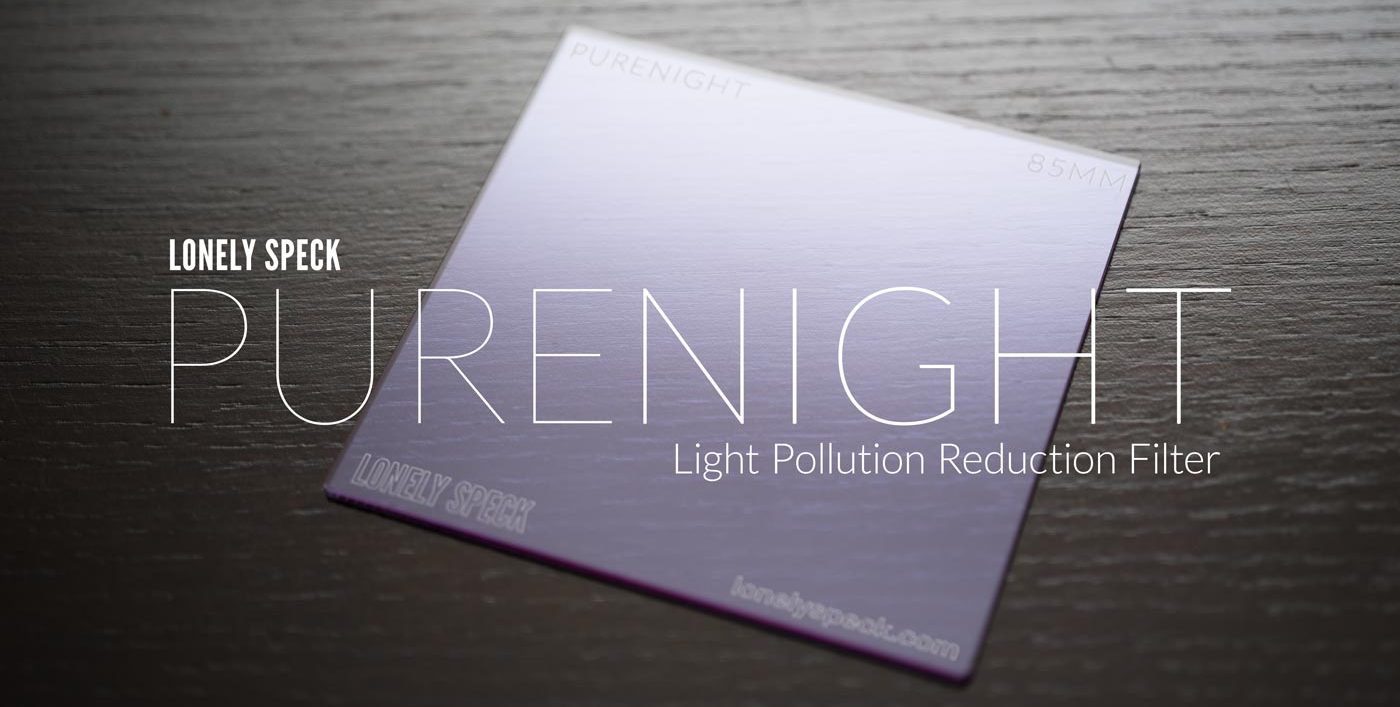 PureNight Frequently Asked Questions
Here are all of the most frequently asked questions for the PureNight Light Pollution Reduction Filter!
Where can I order?
Pure Night is currently only available via crowdfunded pre-order via the Lonely Speck website. Pre-order PureNight here. We have an expected shipping date of March 2017.
PureNight is Out of Stock. Can you notify me when it's available?
Yes we can! Enter your email here:
What kind of improvements can I expect from the PureNight?
PureNight is made of didymium glass. Didymium filters out sodium light which is typically one of the most prevalent forms of light pollution. Sodium vapor lamps are very commonly used in industrial and street lighting. By removing this yellow color from photos, colors of the night sky tend to be more "true" and less editing is required to compensate for the yellow color of light pollution.
Didymium blocks the transmission of yellow-orange light between about 575nm and 600nm wavelengths, the same wavelength as sodium vapor lamps. In the example above, look at the drastic brightness change around the lights of the town on the bottom of the frame. Below is a transmission curve of the PureNight.
Balanced Example
The biggest advantage of the PureNight is an increase in contrast in light polluted areas. Light pollution reduces contrast by illuminating moisture and particles in the air. Filtering out this light makes the surrounding sky darker. An example of this improvement can be made be making a comparison between a filtered and non-filtered image and adjusting them in post processing to match in both white balance and exposure.
The difference is subtle but most noticeable especially around the galactic center. If we take a closer, 100% look at the galactic center, we can see that image made with the PureNight retains more of the subtle reds and pinks of the nebulae and shows higher contrast around the galactic center.
The PureNight is has a filter factor of about 1.5 meaning that there will be a reduction in light transmission of the image by about -0.6EV, depending on the amount of light pollution in the scene. To get a better idea of what to expect, feel free to download our sample photos in RAW DNG here. (95.6MB, .zip)
How does PureNight differ from a Red Intensifier like the Hoya Intensifier?
We love the Hoya Red Intensifier. It's certainly an affordable didymium filter option that we recommend. Limited availability of the Hoya Intensifier and the lack of a square version led us to pursue the design of the PureNight. We use an improved filtration glass with stronger filtration properties than the Hoya Intensifier.
PureNight is available for square filter systems (85mm, 100mm and 150mm sizes). This allows photographers to use a single filter system across their lens collection.
The final improvement: the Hoya Intensifier is made of uncoated or single coated glass which is drastically worse in flare-inducing conditions (like if there is a bright light source against a dark background).  To improve upon this shortcoming, PureNight is multi-coated for highly anti-reflective properties that greatly improve contrast and reduce flare.
Which filter holder do you recommend?
To mount a PureNight you will need:
Appropriately Sized Square Filter Holder System
System Compatible Sized Adapter Ring for Your Lens Filter Thread Diameter
To determine which size filter holder system (85mm, or 100mm) and which adapter ring you will need, you will need to know your lens's filter thread diameter. The filter thread diameter is usually marked in millimeters on the front of your lens with a diameter (⌀) symbol like this:
In this example, the lens shown has a filter diameter of 49mm. Depending on your lens's filter diameter size, we recommend the following systems. In general, pick the system size that's larger than thread diameter of your lens:
85mm (lenses up to filter diameter of 77mm):

-and-

100mm (lenses up to filter diameter of 105mm):

-and-
Do you ship outside the USA?
Yes, we will ship internationally. Please remember that the PureNight is currently on pre-order with expected shipping date of March 2017.
Shipping fees vary for all our international orders. International postage fees for small packages were increased as of January 2016 by the US Postal Service and our current pricing reflects those changes. It's typically about $15 for packing and shipping to send a PureNight order outside the USA.
Our international orders are shipped via USPS first-class mail and usually take at least 7-14 business days to arrive. Tracking may or may not be available depending on the destination. As the buyer, you are responsible for any import taxes (VAT, etc.), duties and custom fees that your country may impose at the time of receipt of the shipment. All international shipments are marked on the customs form as "Merchandise" with an accurate description of the value and contents ("Photographic Filter") and labeled with the proper six digit HS Tariff Code for photographic filters: 900220. Please check with your local postal service for status updates on your order once it has left the USA.
More FAQs coming soon.
For further questions, just ask in the comments below or contact me directly. –Ian Norman