The first astrophotography results with the Fujifilm X-T1.
We've been living for the last month in Stord, Norway, an island along the western coast of the Scandinavian peninsula. This part of Norway is known to be especially rainy and cloudy in the spring. Most of the days here have been grey and wet and we've had only one clear night for our entire stay until this week. Luckily, the forecast for our last week in Sunnhordland is for clear skies and last night was our first opportunity to try some real astrophotography during our stay.
Our host Davide helped organize an impromptu astrophotography workshop from Brandasund, a tiny town on the island of Bømlo, Norway. It made for a fun night of running around in the dark and capturing reflections of the stars off the calm waterways.
It was also the first opportunity for me to test my new Fujifilm X-T1 on the stars. Overall, I'm very happy with the X-T1 for astrophotography. The tilting LCD made it very convenient to keep the tripod in a low and stable position and focusing was easy to perform on the LCD with the focus assist. We didn't stay out into the early morning hours so we did not have the opportunity to shoot the Milky Way's galactic center, but we were able to see the bright regions around the constellations Cygnus and Cassiopeia.
The protected waterways around the island Bømlo made for some mirror reflections of the sky. The bright star in the above image is Vega. The moisture in the air made it glow quite brightly against the rest of the Milky Way.  This panorama was stitched of 5 frames from the XF 14mm f/2.8 R.
We could also barely see the galaxy Andromeda with our naked eyes to the north and the city of Bergen, Norway made the sky glow orange in that direction. The above image is a stitch of two frames using the XF 23mm f/1.4 R.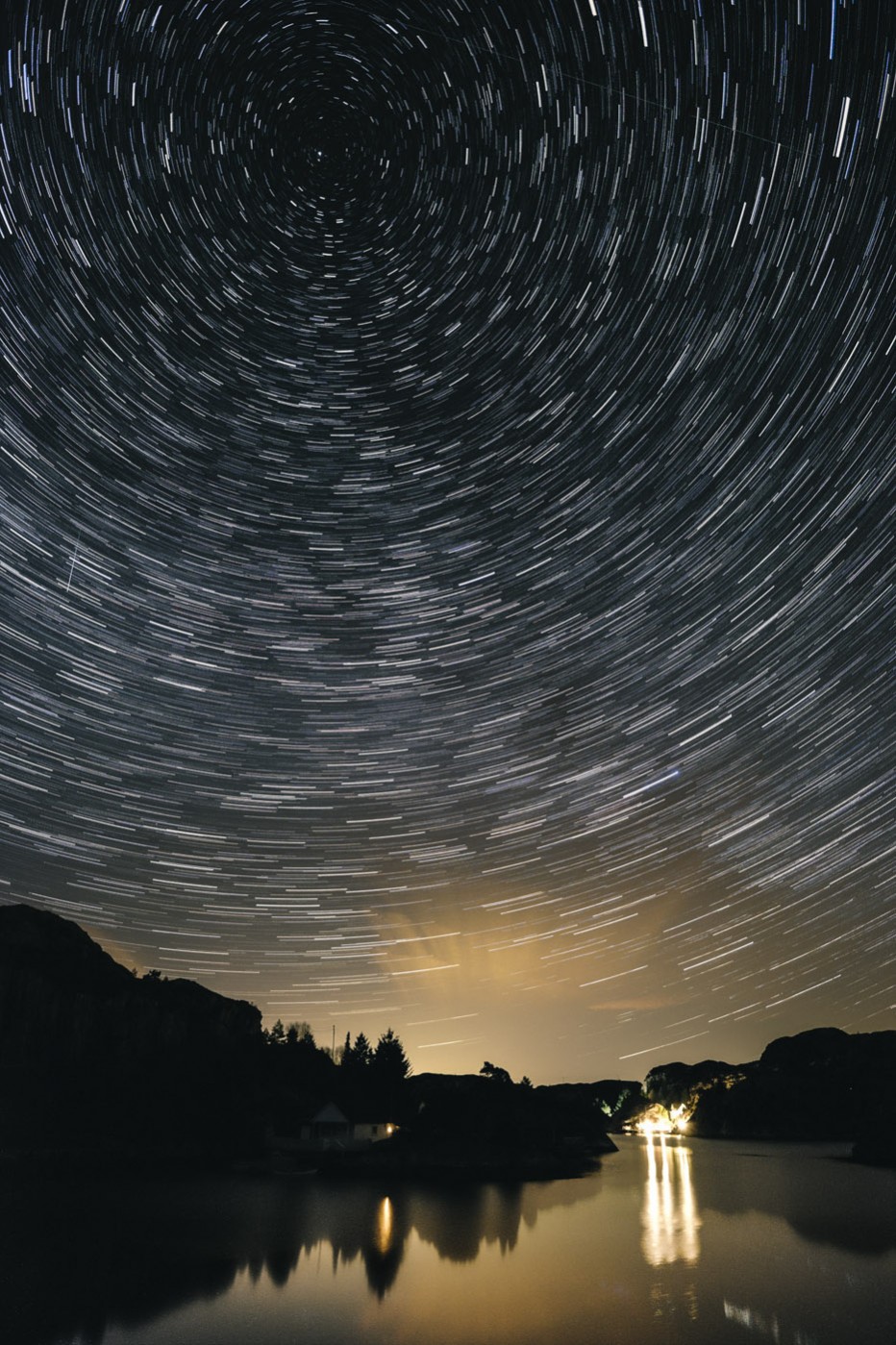 Polaris, the North Star, is rather high in the sky from Norway, making it necessary to use a super wide angle lens to capture it in conjunction with the ground. The above star trails photo is a time stack composite of 48 frames using the 14mm.
This part of Norway might rarely have clear enough skies to see the stars, but when it does, the beautiful landscapes and bountiful selection of remote locations away from city lights makes for a great location to try astrophotography.