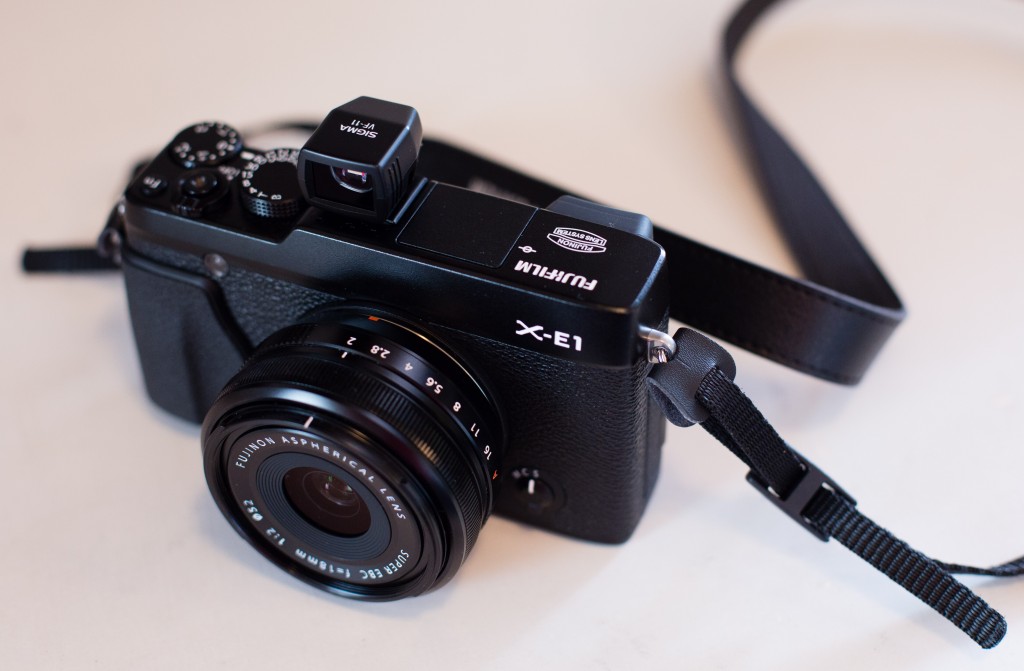 A quick review of the Sigma VF-11 optical viewfinder
I'm currently in the process of making a lightweight wide-field astrophotography setup for some of my lonely speck photography projects. One of the elements to to any astrophotography setup is the imaging device, in this case, a camera. Recognizing that my Canon DLSR weighs nearly 2 lbs without a lens, I've been searching for something that can offer the image quality of an SLR in a significantly smaller package. Mostly, I want a single solution for when I am doing backcountry backpacking. 
Good thing there is a fairly new type of camera that manufacturers are scrambling to make: the mirrorless camera. Basically, many of these cameras give an SLR sized sensor in a compact rangefinder-like body. This makes for a camera combination that many photographers must have wanted decades ago: something that's much easier to carry and less conspicuous than an SLR, with a fast walk-around prime lens and decent sensor size. A couple years ago, there was pretty much nothing like that available. Now, there are plenty of winning combinations out there. I happened to settle on the Fujifilm X-E1. With the XF18mmF2 R lens on it, the camera weighs only 1.0 lb. That's half the weight of just my Canon DSLR Body with no lens.
The one conscious compromise I made was foregoing the optical viewfinder offered by a few other cameras in the Fujifilm X-Series lineup, such as the X-Pro1. But I made that compromise knowing that I wanted the ability to have the interchangeable lens capability of the Fujifilm X-Pro1 but the size of the Fujifilm X100s. I prioritized weight and size over almost everything and settled on the X-E1.
Knowing that I might miss the snapshot ease of an optical viewfinder, I did some searching and found that there are a bunch of optical viewfinders out there that fit the camera hotshoe. eBay is a great place to find cheap ones. The one I found also has the proper frame size for a 28mm lens field of view (FOV) which matches the Fujinon XF18mmF2 R lens (28mm equivalent FOV) perfectly. It also matches the black camera body great, just accentuating the retromania that is the Fuji X-Series.  A few that are easily found are the Olympus VF-1 and the Sigma VF-11 and VF-21, each of which offer different fields of view (approx. 35mm, 28mm, and 40mm FOVs, respectively).
Now installing one of these doesn't suddenly give you an X-Pro1. It's basically just a piece of glass with a rectangle frame. You won't get any of the information display showing your focus point, shutter speed, aperture and exposure compensation, but all told, on a camera like the X-E1 you already know everything you need to make a photograph through the manual dials on the camera and lens. True also is that you'll certainly have a little bit of parallax, but so does any rangefinder style optical viewfinder. What it really does is makes you forget about the thing that you are holding, and pay more attention to what's in front of the camera.
All told, it works well. Framing is nearly spot on and on this particular viewfinder, there are a helpful set of guide marks for close subjects that are around a foot away, reminding you to keep the subject below the guide marks. I think this is a quick addition to any mirrorless camera with a hotshoe that is lacking an optical viewfinder.
I'm not planning on writing a review of the X-E1, there are a million online. However, I will be using it a lot in the near future so if you want to see what I do with it, check back for more.
**Update**
One thing that some may ask about is what "View Mode" and LCD information display to use. I personally enjoy using the "Info Display" with the Eye Sensor View Mode so that that shows just your AF points and exposure information for quick review on the back lcd and changes to the through-the-lens view if I want to use the electronic viewfinder. I tend to use the center focus point when snap-shooting for quick focus and re-compose shots.