Shooting detailed photographs of the moon requires ultra-long telephoto reach. At only about 1/2 a degree in diameter in terms of field of view, the moon is a relatively small target that requires the use of some really long optics. In this guide, we outline the details of an ultra affordable lunar photography kit and why a typical full-frame or APS-C sensor digital camera might not be the best choice when trying to shoot the moon.
FTC Disclosure: As an Amazon Associate, eBay affiliate, and B&H affiliate, this site earns from qualifying purchases through the links below.
In order to fill as much of the photo frame with the full disk of the moon, we ideally want a camera and lens combination that can reach a 35mm equivalent focal length around 1200mm to 2400mm.
Equivalent focal lengths shorter than 1200mm can work, but the smaller the moon appears in the frame, the less sensor area is being used. Ideally, an equivalent focal length of 2000mm will allow the moon to fill most of the frame, but still give a little margin for framing.
My earliest attempts a shooting the moon utilized a full-frame Sony body and either the 100-400mm GM lens (B&H, paid link) or my 420mm f/6 telescope. At around 400mm, the moon still appears small at only 1/6 the height of the frame. While I enjoyed this kit for some of my moon shots, and I could usually crop for a low resolution "close up" of the moon, I desperately wanted more reach and resolution.
There are only a few Sony E mount lens options that can get my Sony a7C into the 1200-2400mm range; they're not exactly cheap (B&H, paid link), and it's not really possible to get past that 1200mm mark with a full frame sensor with buying a fairly big telescope. Switching to an APS-C camera, like the Sony a6600 (B&H, paid link) can get you to 1800mm equivalent with a 150-600mm lens and a 2x teleconverter. You can get to some relatively long equivalent focal lengths with native mount lenses, but it's hard to find anything I would call "affordable" that can approach 2000mm equivalent. Beyond the Sony E mount system, the same limitations apply to most camera mounts, but we can get close… Let's take a look at some viable, albeit expensive long lens solutions for shooting the moon:
The Easy (and Expensive) Way to the Moon: Buy a Big Lens with a Compatible 2x Teleconvertor:
Below are some easy lens and teleconverter combinations that will get to those really long 1200mm to 2400mm equivalent focal lengths on any given camera system. While autofocus is not necessary or recommended, it's notable that some of these combinations will not allow the lens to autofocus when using a 2x teleconverter.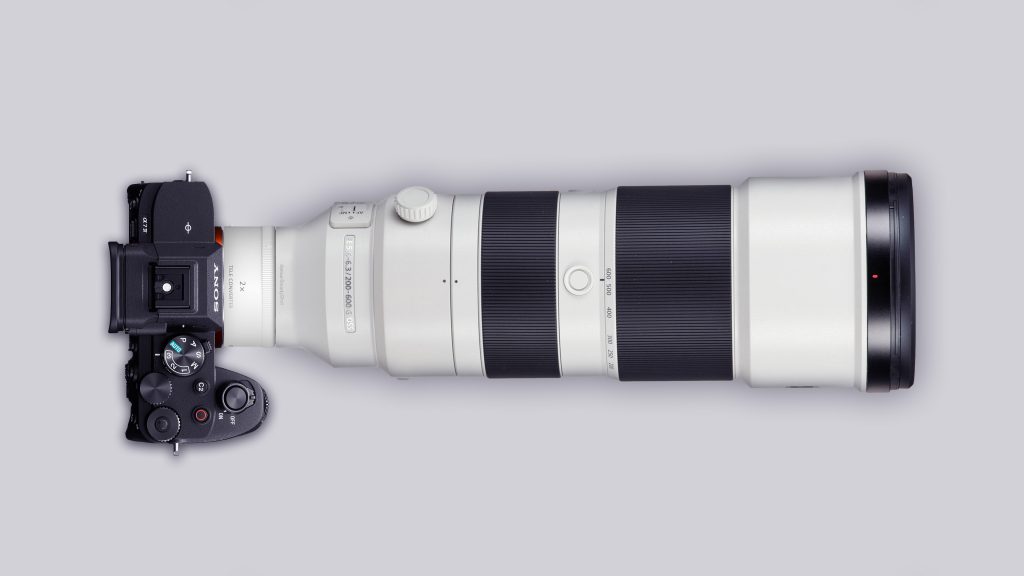 Links in the section below are paid affiliate links that go to B&H Photo
All of the above options are viable for getting a whole lot more reach for your camera, but all of them are relatively expensive options. This guide is also supposed to be the "affordable" way to build a lunar photography kit, so let's keep going and look at another way to shoot the moon.
The Affordable Kit: Small Sensor, Big Results
I have been using a small sensor camera and telescope kit that reaches these same huge equivalent focal length numbers without breaking the bank. At only about $600 for the camera and telescope, it's about 1/3 the cost of most of the lens/teleconverter combinations above. This is the route that I chose to take when building my personal lunar photography kit and I'm enthralled at how well it captures the moon.
Watch our video about putting together this small sensor lunar photography kit and see some of the photographs we've shot with it below:
One of the most economical ways to reach these ultra long focal lengths is to take advantage of a small sensor camera. Rather than use a really big telescope on a full frame camera, we can use a smaller sensor on a smaller telescope to take advantage of the sensor's crop factor to achieve a longer equivalent focal length, all while keeping the photo rig as small and cheap as possible.
Not only is the kit below available relatively cheaply, it is "standalone" such that it does not need to be hooked up to a computer to capture images, such as in the case of using dedicated astronomy camera.
There are tons of choices for telescopes available on the market and it can be an overwhelming task to shop for your first telescope. I have personally found great success with a budget telescope sent to me by SVBONY, a Hong Kong based telescope manufacturer. This guide is built around their most affordable astrophotography telescope.
Ultimately there are many viable telescope brands for building similar kits, but we like the value that SVBONY telescopes provide and I think they're a perfect place to start for a first astrophotography scope. Their scopes are highly regarded across the astronomy and astrophotography community, particularly for their optical quality and affordable prices.
According to their website, SVBONY is an acronym that stands for "Saturn Venus Birding Optics Nature Youth" and is pronounced "SIV-bon-ee".
The below recommendation targets a 2000mm equivalent focal length when considering the crop factor of the camera sensor and the actual focal length of the telescope. This target equivalence allows for the Moon to nearly fill the frame of the camera sensor, with a little margin, in order to make use of as much of the camera sensor as possible while still fitting the full disk of the Moon.
Equivalent focal lengths much longer than 2400mm will typically not fit the whole Moon in the frame and would require some form of panorama stitching to shoot a complete Moon disk. That certainly is a viable method for ultra high resolution moon shots, but is out of the scope of this beginner oriented guide.
Our Choice: Pentax Q-S1 + SVBONY SV503 70ED (420mm f/6)
The Pentax Q line (eBay, paid link) of cameras are all 12 megapixel sensors with either a 1/2.3″ (6.17mm x 4.55mm) on the Pentax Q and Q10 for a crop factor of 5.53x, or a slightly larger 1/1.7″ (7.44mm x 5.58mm) sensor on the Q7 and Q-S1 for a crop factor of 4.65x. Those are some tiny sensors, but with their massive crop factor, any of these cameras is an excellent choice for lunar photography. When paired with a fairly small telescope these tiny point-and-shoot sized cameras makes for an extra affordable lunar photography kit. I use the Pentax Q-S1 for all of my lunar photography and I think the photos speak for themselves. This little camera is no slouch.
When building my lunar photo kit, I really wanted to be able to keep everything relatively simple, small and compact, so that meant trying to find a small sensor camera that would also have the specs and features to support lunar photography. It wasn't immediately apparent to me that the Pentax Q was as good a choice as it is and I actually held back on buying one.
There were only ever a few interchangeable lens cameras with sensors smaller than Micro 4/3″ and those were: the Nikon 1 Series, the Samsung NX Mini, and the Pentax Q series of cameras. Moreover, none of these cameras are still being produced and must be purchased on the second hand market. I immediately gravitated towards the Nikon 1 series of camera, somehow thinking that the slightly higher resolution 1″ sensors were to my benefit. I was wrong, but the sensor of my Nikon 1 camera wasn't the problem.
I originally bought and tested a Nikon 1 J5 (eBay, paid link) only to find out that it has numerous hardware and software roadblocks to its lunar shooting capabilities: no wired or infrared remote trigger support, a timelapse interval timer that only supported a minimum interval of 5 seconds, and no manual focus zoom assist when using fully manual focus lenses without the use of an FT1 adapter.
In my research, I also found that the other Nikon 1 series cameras, including the flagship Nikon 1 V3, shared many of the same exact issues. I tried to make the Nikon 1 J5 work and still was able to make a few successful photos with it, but I hated the shooting experience so much that I decided to try the smaller, almost toy-like Pentax Q series instead.
As it turns out, Pentax Q cameras aren't toys and my experience using the Q-S1 was night-and-day better than the Nikon 1 J5 that I tried. Pentax built in all the features I would have expected of a significantly more enthusiast-oriented camera into their Q line. The Q-S1 that I ended up buying has all the things that were missing on the Nikon 1 J5: it supports an infrared remote that can trigger continuous shutter drive for shooting about 1.5 photos every second. It also has a built-in interval timer that can shoot as fast as 1 photo every 3 seconds.
And one of the most basic but essential features was thankfully there: manual focus zoom assist was possible for precise focusing.
There aren't many small sensor interchangeable lens cameras available on the used market, but of those available, the Pentax Q line of cameras is probably the best choice for lunar photography without going for a dedicated astrophotography camera that needs to be tethered to a computer.
That said, my Q-S1 isn't perfect. It has a couple quirks that need to be considered: It does not support simulated exposure preview which means that the live-view feed will always try to show a neutral exposure, independent of your manual exposure settings. This means you always need to check exposure with a test shot because what you see is NOT what you get. This issue can also make the live view feed a little prone to appearing overexposed when pointing at the moon because the camera will either be compensating for the ultra dark black of space around the moon. I found that the best practice is to set the metering mode to spot-metering and to center the illuminated part of the moon under the meter spot in the frame when attempting to tune focus so that the internal meter adjusts the live-view feed to expose for the lunar surface, rather than the black of space.
Beyond that one issue, the Q-S1 is quite pleasant to shoot with. I found that using the "Remote Continuous Shooting" shutter drive mode on the Q-S1 was most useful for capturing as many photos as possible in a given shooting session: better even than the interval timer. A single click of the IR remote in this mode and the camera rapidly fires off a sequence of shots at about 1.5 frames per second and it can maintain this rate indefinitely until the battery runs out. This makes it possible to capture about 90 photos every minute, which is a great way to gether data for a lucky-image stack. The built-in interval timer also works as a backup when you don't have an infrared remote, but it has a minimum interval of 3 seconds so it's quite a bit slower.
The Scope
The SVBONY SV503 70ED (Amazon, paid link) is a 70mm diameter, 420mm focal length telescope making for an f/6 aperture. It's well matched to the Pentax Q line of cameras for lunar photography because it provides an equivalent focal length of either 1953mm on the Q7 or Q-S1, which will almost fill the frame with the disk of the Moon, or when paired with the Q and Q10, an equivalent focal length of 2322mm which will completely fill the frame with the full disk of the moon.
We have found the SVBONY SV503 70ED to be exceptionally sharp on the small sensor Pentax Q-S1, especially for such a small diameter, short telescope. The focus throw of the scope can be managed very precisely with its precision focuser and it also features a small set screw to lock down the focus. There were a few accessories needed to fit the Pentax Q-S1 camera up to this telescope, which I have outlined below:
The Kit:
Conclusion
Overall, the amount of money needed to invest in the SVBONY scope and Pentax Q-S1 camera is around $600 USD, which is notably the same cost as a single Canon RF 2x teleconverter (B&H, paid link). This kit reaches nearly 2000mm and I was able to invest considerably less money into my lunar photography kit than if I had used my full-frame Sony and tried to use native lenses. I think that this approach is an exceptionally economical way to build a lunar photo rig that reaches farther than most camera lenses without the need for a really large, heavy and expensive telescope.
Of course, the major caveat of this whole approach is that the Pentax Q line of cameras has been discontinued for several years and can only be found on the used market. Along with the discontinuation of the Nikon 1 line of cameras, I personally think it's a shame that there are no more small sensor interchangeable lens cameras being produced.
What are your thoughts on using a smaller sensor to gain more telephoto reach?
Legal Disclosure
We are a participant in the B&H Affiliate Program which also allows us to earn fees by linking to bhphotovideo.com. We are a participant in the Amazon Services LLC Associates Program, an affiliate advertising program designed to provide a means for us to earn fees by linking to Amazon.com and affiliated sites.
Learn Astrophotography
Astrophotography 101 is set of lessons that are completely free for everyone. All of the lessons are available on the Lonely Speck Astrophotography 101 page for you to access at any time. Enter your email and whenever we post a new lesson you'll receive it in your inbox. Updates will be sent out only periodically, usually less than once per week.
Help us help you!
Lonely Speck is our full-time job. It's been an amazing experience for us to see a community develop around learning astrophotography and we're so happy to be a small part of it. We have learned that amazing things happen when you ask for help so remember that we are always here for you. If you have any questions about photography or just want to share a story, contact us! If you find the articles here helpful, consider helping us out with a donation.
Thanks so much for being a part of our astrophotography adventure.
-Ian and Diana