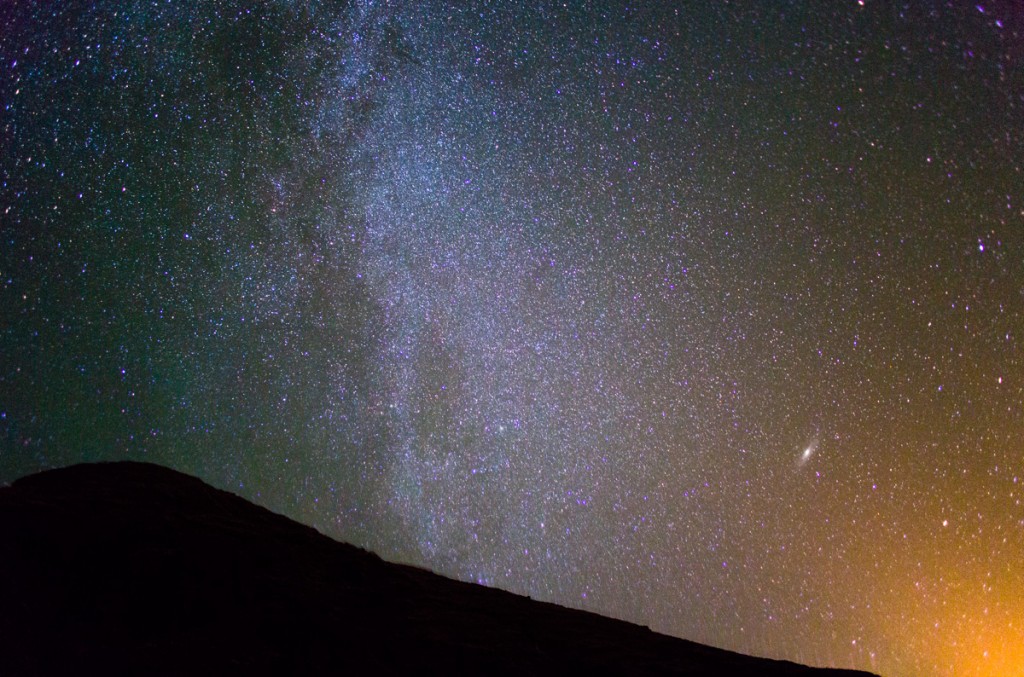 The Hawaiian islands offer some very dark night skies.
Diana and I went out to Kaena Point in Oahu, Hawaii this Labor Day weekend with my old college friend Nate and new friend, Chris. The shoreline was packed with families and campers grilling dinner for the holiday weekend. Luckily, the weather was nice and clear, and we were happy to have dark skies with very little light pollution. Kaena Point is just about as far away on Oahu as you can get from the city lights of Honolulu.
From the Kaena Point Trailhead, we could see the dust lanes in the galactic plane and could even just barely make out the galaxy Andromeda with our naked eyes. Over the ocean, toward the south, the galactic center was just a bit past its peak. The rest of the silvery galactic plane arched high across the sky. In the galactic center, it was easy to make out the Omega Nebula.This trip, we wanted to keep the photography equipment minimalist. All we brought with us was the Canon EOS-M kit with a 22mm pancake lens, a tripod and a couple headlamps for roaming around in the dark. As it turns out, the EOS-M pushes out some great wide-field landscape astrophotography.
Oahu is situated at a lower latitude than California, where I do most of my Milky Way astrophotography, and as a result, the galactic center sits a bit higher in the sky than I am used to seeing. We made this image of Nate out on the rocks that lined the shore by stacking four separate 15 second exposures. The stacking made for a really clear image of the Milky Way and really accentuated a lot of the detail in the galactic center.
Before we left for the night, Nate and Chris helped us grab this portrait of Diana and me with the Milky Way in the background. We created the light ring by spinning a headlamp on the end of a shoelace.
If you're in the Hawaiian Islands anytime soon, be sure to head out of town for a night and take a long look at the stars. I highly recommend the Kaena Point Trailhead if you're on Oahu; it's pretty easy to access and has a great view of the sky.