My review of the Canon EOS 6D: one of the best full-frame cameras for astrophotography
I've had the pleasure of using the Canon EOS 6D for over a year. It's still Canon's cheapest full-frame camera in production. I would argue the 6D is one of the best full-frame cameras you can buy for astrophotography. This review will be a quick overview of my thoughts on using the 6D as my primary camera for astrophotography. I'll start with what I don't like and then I'll move on to what I love. At the end of the article you'll find some of my favorite photos from the 6D from the last year.
This isn't a comparison post or a pixel peeping post, it's merely my opinions about the 6D. There are plenty of other articles that compare the 6D to its current generation rivals. (Here and here for example.)
The Quirks
No tilt screen. This is honestly the most annoying aspect of this camera. It seems like a trivial point to make since tilt screens are usually associated with cheaper cameras and most professional level cameras aren't expected to have a tilt screen. But when it comes to astrophotography in particular, the lack of a tilt screen makes composition and focusing much harder when the camera is positioned low to the ground. Since astrophotography usually calls for photos with more than half of the frame featuring the sky, it's very common to place the camera in a low position so that your foreground subjects are situated against the sky. With the 6D you'll find yourself on your stomach trying to look at the LCD when it's this low to the ground. Strangely, the cheaper APS-C offerings by Canon, the EOS 60D and EOS 70D both have tilt screens.
The buttons are spongy. For normal operation, this is never a problem. When shooting photos in the dark, it's impossible to know what you're pressing. I've had this camera for a year and you would think that I'd have gotten used to where all the buttons are placed, but it's surprisingly easy to accidentally press the "Q" button when you mean to press the "Magnify" button, or press the "Magnify" button when you meant to press the "Q" button. All three of these buttons are placed for easy access to your thumb, but all of them are flush with the body and have no tactile feedback whatsoever.
It doesn't have a built in intervalometer. This is a complaint I could make about most DSLRs. Why camera manufacturers have not made a software intervalometer a feature on every camera is beyond me. It would require minimal development time and needs no extra hardware. What this means is that the 6D requires either an additional accessory for making time lapse sequences or you must install (through some initially daunting steps) a community developed custom firmware hack called Magic Lantern. I use Magic Lantern on the 6D, and it works, but stability is still not 100%, and it's usage is not the fastest and is a little daunting for some. Furthermore, it adds a lot of menu complexity and the potential to induce some unusual behavior in your camera that may trip you up unless you realize that you may have forgotten having enabled some strange setting on Magic Lantern. If you want to install Magic Lantern on your 6D, you'll need to follow the directions posted on the forum thread here. If you're serious about time lapse creation and you own a Canon DSLR, Magic Lantern is essential. I have no clue why Canon has not caught on and offered all the functionality offered by Magic Lantern out of the box.
Enabling the GPS drains the battery fast. I love the idea of geo-tagging my photos, but if you leave the GPS enabled your battery life will suffer. I'm not keen on reducing my battery life significantly so I try to leave it disabled until I need it. Since it's one extra thing to enable before shooting, I often forget about it and don't bother, making it an awesome feature that you're not likely to use.
The Wi-Fi remote control is slow and clunky. It works most of the time, but its operation is not fast enough to be truly practical as a professional tool. The image often lags far behind and the connection will often drop at ranges as short as 20 feet. Furthermore, there's no way to override the mode dial selection via the remote software, meaning that if you decide to switch from aperture priority to manual exposure mode, you'll need to go back and handle the camera. Also, given the slow performance of the Wi-Fi remote function, your cell phone or tablet isn't as practical a replacement for a tilt screen as you may think it could be.
The Goods
It's the lightest full-frame DSLR. The only thing lighter in full frame is the Sony A7 and A7R, but they're mirrorless and are super new to the market, so they have a much reduced selection of full-frame lenses. (Although Rokinon just made the awesome 14mm/2.8 and 24mm/1.4 available for the Sony A mount.) When compared to the Canon EOS 5D Mark III, the 6D feels featherlight.
The build quality is tank-like. It's been said that one of the benefits of the 5D Mark III over the 6D is better build quality, but I'm not seeing it. In over a year of truly hard use, my 6D looks nearly new. It has no finish loss anywhere, the screen is scratch free and there are no dings anywhere. Sure, it has more plastic in its construction than the 5D Mark III, but it's super tough anyway.
Excellent low-light, high ISO performance. This is what astrophotographers want to know. The Canon EOS 6D makes the cleanest looking high ISO astrophotos that I've ever seen from a full-frame DSLR.  They retain a tremendous amount of detail, even when pushed several stops in post processing. I have no hesitation using the camera up to ISO 12800 in any conditions. This means that the camera can make successful exposures of the Milky Way with lenses as slow as f/4.0 (although I would recommend a fast lens with an f/number of f/2.8 or lower). This trait alone makes it one of the best cameras that you can buy. I'm not a pixel peeper, but the image quality from the 6D is nothing short of amazing. It's a leap beyond my old Canon 5D Mark II and just pulls ahead of most other full-frame DSLRs in the high ISO department.
Quiet shutter mode is nice and soft sounding. I didn't get the Canon 6D for how quiet it would be but it's something that I've come to love about the camera. When silent mode is enabled, it's significantly quieter than any other DLSR I've used but still has a pleasant level of audible feedback. It's not silent, but it's very pleasant.
Video performance is excellent. As an alternative to the Canon EOS 5D mark III, it doesn't have all of the bells and whistles. But at $1000 cheaper, the 6D video mode is no slouch. it offers everything you need to make professional quality HD video. Pair that with the excellent selection of lenses that you have available for the EF mount and the 6D is probably the best video DSLR you can buy in terms of price to performance. Furthermore, if you install the Magic Lantern firmware hack, you can unlock some missed functions like headphone monitoring, focus peaking and programmable focus pull.
Live-View in low light is very clean. Compared to most other DSLRs and mirrorless cameras alike, the 6D has a very clean live view feed. This makes focusing for astrophotographs very nice even when using extended ISOs in extremely dark conditions. Pair the 6D with a fast lens for astrophotography like the Rokinon 24mm f/1.4 and focusing on the stars is rather easy.
It's weather sealed. While I don't usually like to take my cameras out in the rain, the 6D has adequate weather sealing and in the year I've used it, it's seen its fair share of water and dust and has given me no problems whatsoever. I've also never needed to clean the sensor, save for the rare use of a Giottos rocket blower. As far as I've seen, the 6D is weather tight.
Keeping with a rather minimalist setup, I primarily used only 3 lenses with the Canon EOS 6D: the Sigma 50mm f/1.4, the Rokinon 24mm f/1.4 and Rokinon 14mm f/2.8. For astrophotography, the 24mm f/1.4 is my most used lens and most of the images you see below were made with it. Combined with the 6D, it makes some of the cleanest images of the Milky Way I've ever seen. Okay, enough prose. Here are some of my favorite images made with the 6D during the last year:
The northerly view from Hidden Dunes in Death Valley National Park. 14mm of a full frame camera like the 6D makes for a very wide angle view which is great for large sweeping landscapes.
Above is a crop of the galactic center and the Rho Ophiuchi cloud complex around the bright yellow star Antares. With the Rokinon 24mm f/1.4, the 6D can capture an amazing amount of star detail. Furthermore, the large aperture on the 24mm f/1.4 allowed me to use a relatively low sensitivity of ISO 1600 so the image is practically noise free.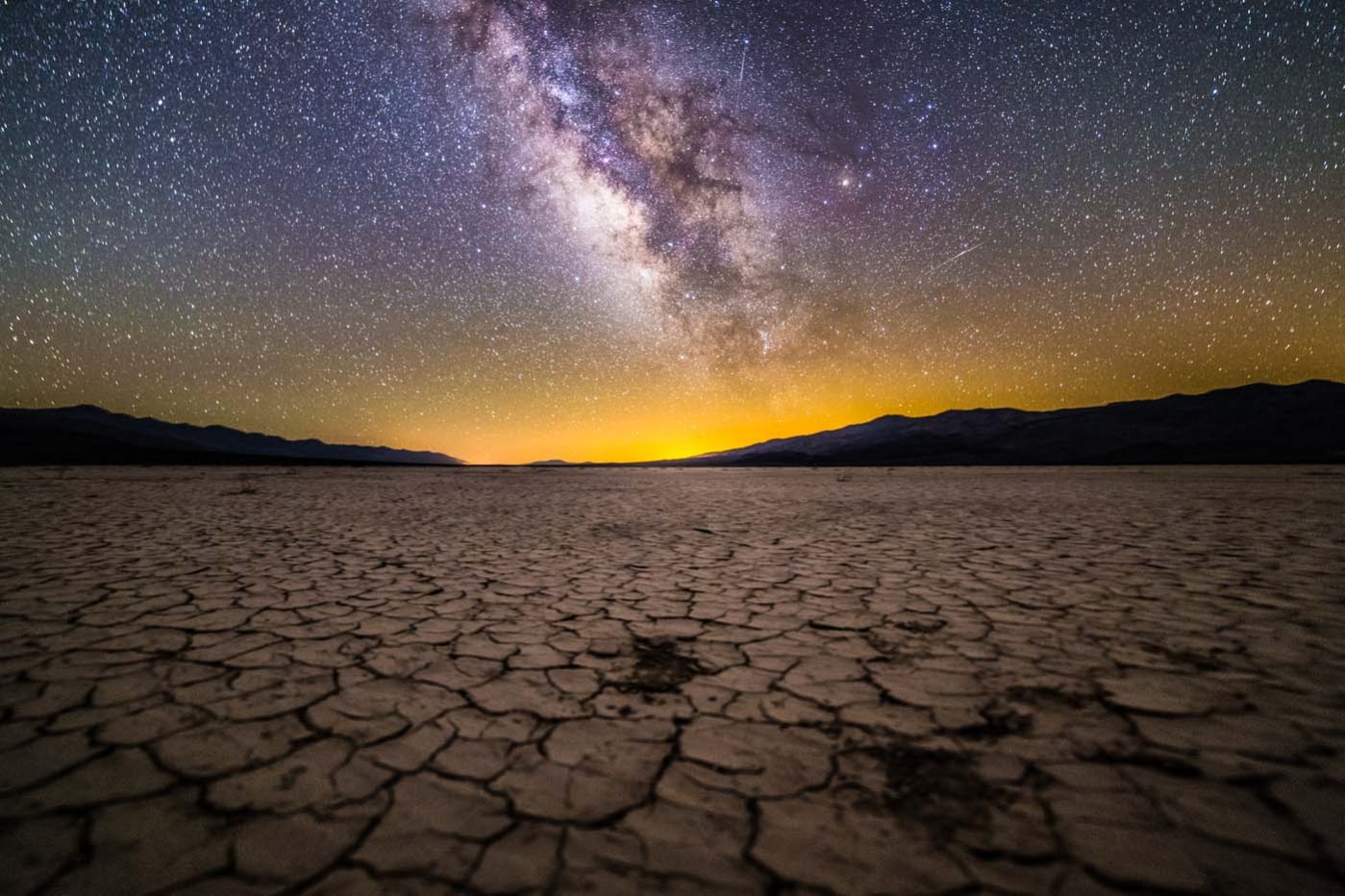 The above image from Panamint Valley in Death Valley National Park is a single frame from my Lonely Speck teaser timelapse sequence used the beginning of my YouTube videos.
The galactic center from Trona Pinnacles, California. This is also another single frame from a timelapse sequence made during an astrophotography workshop.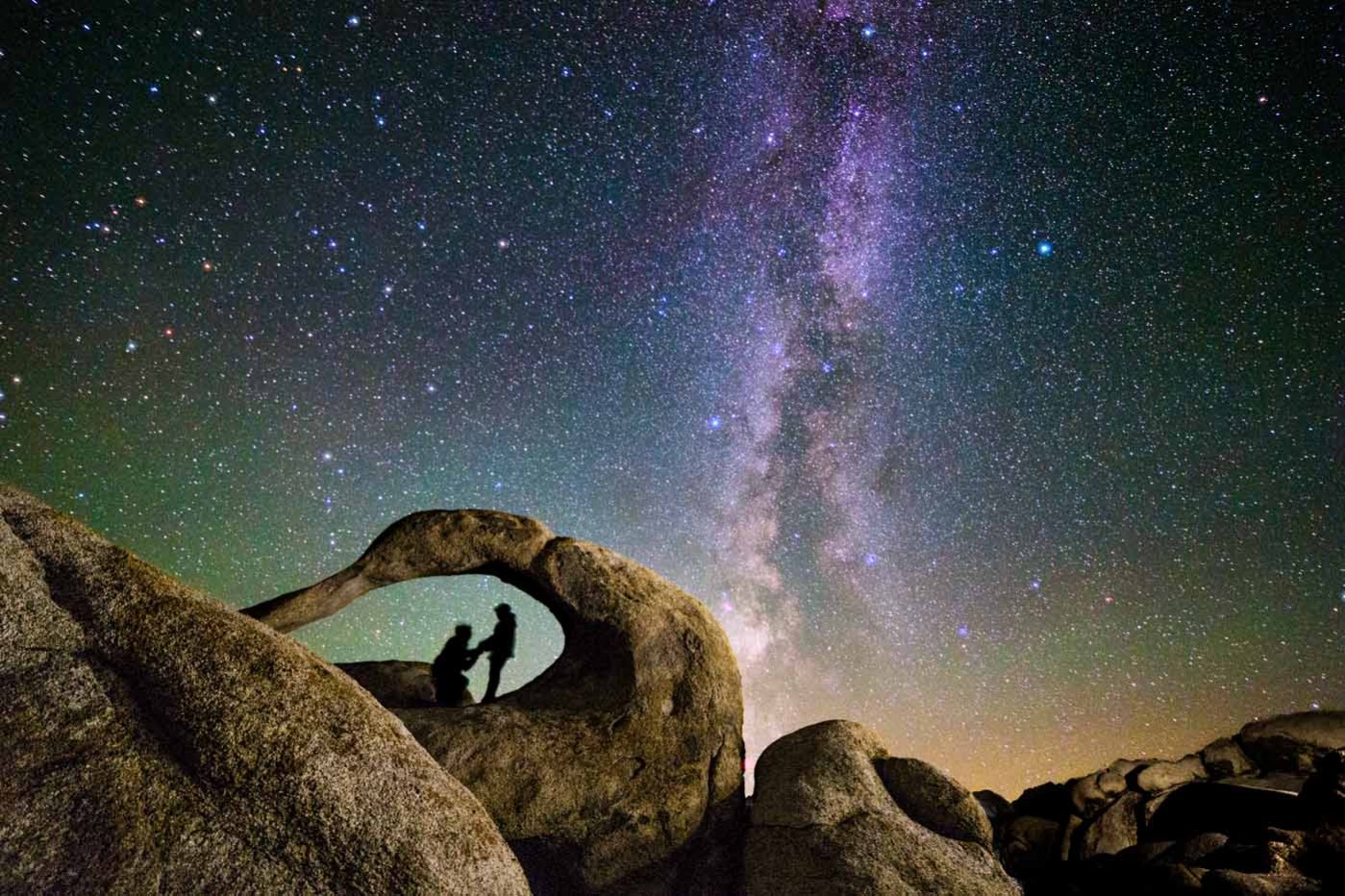 The above image was made during an astrophotography workshop in Alabama Hills where my participants, a young couple, decided to get engaged under the Milky Way.
The three portraits above are from a series of daily photography that I started at the beginning of the year: 50 image with a 50mm lens. All three were made with the Sigma 50mm f/1.4 shot wide open which is my favorite lens for portraits with the 6D. The levitation shots are simple composites where I removed a small chair used to support the subjects.
The above was made in Pumice Valley near Mammoth Lakes, California. In 2010 a brush fire swept through the valley leaving behind clear ground for bright red buckwheat plants to grow in the ashes. It made for a surreal setting of burnt black and white sculpted sagebrush scattered on a blanket of red.
It turns out the a 50mm lens, although rather narrow angle of view for astrophotography, works quite well at capturing the stars. This image is a stitch of three 10 second photos with the Sigma 5omm which made for an angle of view very similar to a 35mm lens.
Finally, from the same location as the previous photo, this is a wider view made on the following day with a 24mm.
Conclusions
The Canon EOS 6D is one of the the best full frame DSLRs for landscape astrophotography. Even with relatively slow lenses, it's capable of producing exceptionally clean and noise free images of the Milky Way. While I wish it had a tilting LCD for easier use with low camera positions and wish that the buttons were raised and gave more tactile feedback, it more than makes up for these quirks with its clean and color rich images. If you're considering a full-frame camera particularly for low light images and astrophotography, the 6D is one of the best choices especially for it's relatively low price.
You can buy the Canon EOS 6D from B&H here: (Body/Kit) Note: The kit lens is very good for most situations but if you're serious about astrophotography, buy the body only and pair it with a fast prime like the Rokinon 24mm.
Disclosure
We are a participant in the Amazon Services LLC Associates Program, an affiliate advertising program designed to provide a means for us to earn fees by linking to Amazon.com and affiliated sites. We are also a participant in the B&H Affiliate Program which also allows us to earn fees by linking to bhphotovideo.com.
Learn Astrophotography
Astrophotography 101 is completely free for everyone. All of the lessons are available on the Lonely Speck Astrophotography 101 page for you to access at any time. Enter your email and whenever we post a new lesson you'll receive it in your inbox. We won't spam you and your email will stay secure. Furthermore, updates will be sent out only periodically, usually less than once per week.
Help us help you!
Believe it or not, Lonely Speck is my full-time job. It's been an amazing experience for us to see a community develop around learning astrophotography and we're so happy to be a small part of it. I have learned that amazing things happen when you ask for help so remember that we are always here for you. If you have any questions about photography or just want to share a story, contact us! If you find the articles here helpful, consider helping us out with a donation.
[button font_size="16″ color="#136e9f" text_color="#ffffff" url="https://www.paypal.com/cgi-bin/webscr?cmd=_donations&business=lonelyspeckblog%40gmail.com&item_name=These+tips+help+keep+lonelyspeck.com+running.&currency_code=USD&source=url" target="_blank"]Donate[/button]
Thanks so much for being a part of our astrophotography adventure.
-Ian