In this review we take a look at Sony's Zeiss-branded full-frame 55mm f/1.8. It's one of the more expensive 50mm-ish primes available for any camera system and is highly regarded for its sharpness. Let's see how it handles astrophotography.
Introduction
The Sony Zeiss FE 55mm f/1.8 Sonnar T* was one of the first prime lenses introduced for the full frame Sony E mount lineup. Its design strays a bit from the standard 50mm prime that we're used to seeing. The lens body is narrow, sporting a 49mm front filter thread and it's longer than you would expect for a 50mm-ish standard prime lens. It also has a concave front element, something you don't usually see on a typical 50.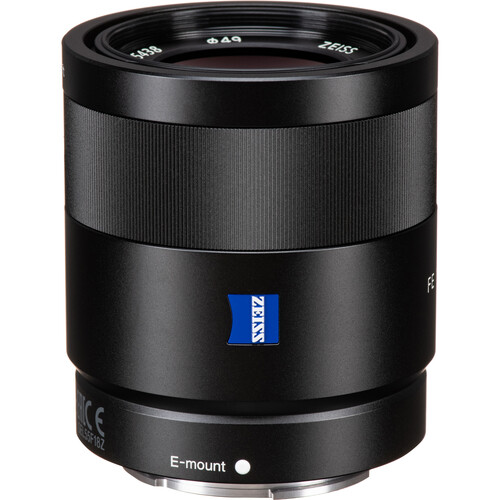 It features a round 9-bladed aperture design, internal focusing, moisture and dust resistance, and an included petal-style lens hood. Its 7 element design has 3 aspherical lens elements, more than the typical 50mm-ish prime lens. It's a fairly light lens at just under 10 ounces (281 g). At the time of writing, the lens sells for about $900-$1000. This isn't your typical affordable standard prime.
First Impressions
On any of the Sony a7 cameras, the 55mm f/1.8 is a well-balanced lens. It feels just the right size on my a7S. The body of the lens is a satin-black anodized aluminum alloy. It's not the most resilient outer finish. Over time, my 55mm/1.8 has gotten a few dings and scrapes that have removed some finish on the edges of the lens. The included lens hood is very deep. It's nearly half as long as the lens alone and so it really increases the length of the lens when installed. The hood also shares the same satin metal finish as the lens body, although the tips of the hood petals are a durable plastic.
The focusing ring is similar to most of the other native lenses for the E mount system. It has a smooth, finely ridged surface that's flush with the rest of the lens. It's not the best feeling focusing ring in my opinion. I would much prefer the rubberized, gnurled or well scalloped focusing rings that can be found on most other lenses.
Autofocus is super fast and quiet on the 55mm/1.8. It's one of the quietest lenses that I've ever used, typical of the current offering of the Sony E mount system. Even on the more basic contrast detect autofocus system of my a7S, focusing is fast and accurate. On my a7II, which features a phase detection system, it's even better. Not a primary consideration for astrophotography, but it's nice nonetheless.
Manual focusing is a little strange, but good. It's a focus-by-wire system and it's highly non-linear. Turn the ring slowly and the focus will move very finely, quickly and it will move very coarsely. That means that one position of the focusing ring does not correspond to a specific focus position. It takes some getting used to and is not very well suited to things like focus pulling during movie recording.
The focusing system does, however, allow for extremely fine focus adjustments, significantly more so than what I've experienced on other focus-by-wire systems like the one offered on current Fujifilm XF lenses. This feature is a good thing for slower, more methodical shooting situations like landscape and astrophotography. It makes it possible to really tune the focus to perfection, epecially helpful when using a precision focusing mask like my SharpStar2. (Which I highly recommend for pairing with this lens.)
Image Quality and Aberrations
The Sony Zeiss FE 55mm f/1.8 Sonnar T* has already earned a positive reputation among the photography community. It's simply a very sharp lens. Astrophotography can be a little tougher on lenses. When shooting astrophotography, I like to judge a lens based on how well it renders pin-point highlights (like stars) on the edge of the lens. Many lenses, especially fast primes, can show deformed looking stars in the corner of the image. Aberrations like coma and astigmatism can become distracting elements to an astrophoto.
I ran the FE 55mm f/1.8 through my aberration test chart to try to characterize its aberration performance. In general, the 4 dots in each sample of the chart should look like pinpoints. Any deviation from a pinpoint is an indication of aberration. In my test, aberration sizes are measured in pixels relative to the frame height and expressed as a percentage of the frame height. In general 1.5% is poor, 1.0% is average, 0.5% is very good and <0.3% is excellent.
You can read more about my aberration test in my practical guide to lens aberrations. Here's how the FE 55mm f/1.8 does wide-open:
Right from f/1.8, the the Sony Zeiss FE 55mm f/1.8 Sonnar T* shows promising performance. There is slight indication of sagittal astigmatism in the corner, which is what we would expect by inspecting the published lens MTF chart, but the aberration level seems very small, already delivering very good to nearly excellent performance in the corner of the image. Stopped down, it's even better:
When the 55mm f/1.8 is stopped to f/2.8, nearly all signs of distracting aberrations are completely eliminated and stars appear like perfect pinpoints. At this setting, the lens seems nearly flawless.
Just for comparison to a significantly cheaper, legacy 50mm lens design, check out the same test performed on the affordable Canon 50mm f/1.8 STM below. Wide open, stars on the Canon lens appear stretched into little winged shapes.
Seeing the amount of aberration on the cheaper Canon lens puts into perspective just how good the Sony Zeiss FE 55mm f1/.8 is at producing low aberration images. At f/1.8, the Sony Zeiss FE 55mm is even better than the Canon at f/2.8. Impressive, but what else would we expect for this price?
Something that isn't as perfect on the FE 55mm is its vignetting or light falloff performance. At f/1.8, the difference in brightness from the center of the frame to the coner is quite dramatic. For single frame compositions, vignetting is not usually a huge problem, but it can be particularly problematic for making panorama stitches.
Making a panorama with a 50mm-ish lens is one of my favorite methods for creating very high resolution images at night. Vignetting will usually make the seams of a panorama stitch visible. In order to reduce the effect enough to be acceptable for panoramas, the FE 55mm/1.8 needs to be stopped to f/2.8.
Using the Sony Zeiss FE 55mm f/1.8 for Astrophotography
Ok, I could stare at test charts all day, but how does the FE 55mm f/1.8 really perform in real life? I've had the lens available to me for astrophotography for the last two years. Here are some recent sample images and some more thoughts on its use:
Like I mentioned before, I really prefer to use my standard prime lenses to make small, usually 10-12 frame two-row panoramas. In this regard, the FE 55mm f/1.8 has worked to create some of my favorite, extremely high resolution photos of the night sky. Above is a multi-frame panorama from Trona Pinnacles, California, the site of our first ever Lonely Speck meetup.
Trona Pinnacles isn't the darkest spot but it usually offers clear skies and its bizzare landscape makes for fun compositions.
I've also used the 55mm f/1.8 to capture some narrower crops of the Milky Way. Below is a single frame composition shot from the Adirondacks in New York.
The 55mm f/1.8 was the lens I used to shoot the constellation Orion for my LRGB tutorial. It took many exposures at f/1.8 and a lot of processing to capture the faint detail in Orion but I love the result.
More recently, I used the 55mm f/1.8 to shoot some detailed crops of the constellation Cygnus from Trona Pinnacles. In the photo below, the North American Nebula is visible on the left, near the bright blue star of Deneb and the Veil Nebula is even barely visible, centered at the bottom edge of the frame.
And also from Trona Pinnacles is this shot of the sky near the Milky Way galactic center, featuring my favorite part of the night sky: the Rho Ophiuchi region around the star Antares. Saturn is visible in the center as the bright white star while Mars is the brightest, orange-reddish star to the right above the colorful region around the yellow star Antares.
Conclusions and Verdict
So what do I think? It's almost perfect. The Sony Zeiss 55mm f/1.8 is extremely sharp and shows very good aberration peformance wide open at f/1.8. Stopped down to f/2.8, it's simply excellent.
Vignetting performance wide open is a little bit disappointing and that's the one characteristic that keeps the 55mm/1.8 from being perfect. Note that light falloff is common on most fast standard prime lenses; I just would have liked the relatively expensive FE 55mm f/1.8 to be an exception. The solution for panoramas is to shoot stopped down to f/2.8 in order to mitigate the effects of light falloff. In this regard, the lens can be used to produce some very highly detailed, absolutely aberration free panoramas of the night sky.
It's the best standard prime I've ever used and I'll likely keep it in my kit for the forseeable future. Highly Recommended.
Sony Zeiss FE 55mm f/1.8 Pros:
Sharp wide-open at f/1.8, very low levels of aberration
Basically aberration free by f/2.8
Very fine manual focusing capability
Fast silent autofocus
Sony Zeiss FE 55mm f/1.8 Cons:
Lots of vignetting at f/1.8, stop to f/2.8 to reduce light falloff
Expensive for a standard prime
Sony FE 55mm f/1.8 Sonnar T* Verdict:
Highly Recommended! (4.5/5)
Links:
Disclosure
We are a participant in the Amazon Services LLC Associates Program, an affiliate advertising program designed to provide a means for us to earn fees by linking to Amazon.com and affiliated sites. We are also a participant in the B&H Affiliate Program which also allows us to earn fees by linking to bhphotovideo.com.
Learn Astrophotography
Astrophotography 101 is completely free for everyone. All of the lessons are available on the Lonely Speck Astrophotography 101 page for you to access at any time. Enter your email and whenever we post a new lesson you'll receive it in your inbox. We won't spam you and your email will stay secure. Furthermore, updates will be sent out only periodically, usually less than once per week.
Help us help you!
Believe it or not, Lonely Speck is my full-time job. It's been an amazing experience for us to see a community develop around learning astrophotography and we're so happy to be a small part of it. I have learned that amazing things happen when you ask for help so remember that we are always here for you. If you have any questions about photography or just want to share a story, contact us! If you find the articles here helpful, consider helping us out with a donation.
[button font_size="16″ color="#136e9f" text_color="#ffffff" url="https://www.paypal.com/cgi-bin/webscr?cmd=_donations&business=lonelyspeckblog%40gmail.com&item_name=These+tips+help+keep+lonelyspeck.com+running.&currency_code=USD&source=url" target="_blank"]Donate[/button]
Thanks so much for being a part of our astrophotography adventure.
-Ian